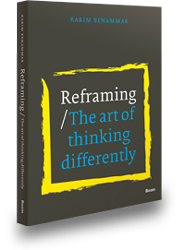 Reframing is a simple but powerful technique to think differently: an easy, four-step process that generates creative approaches for your own life and work. Reframing helps us to innovate, to approach the world from a fresh perspective and to overcome engrained patterns. Reframing allows us to develop strategies for dealing with our current challenges instead trying to solve problems which no longer exist.
'Reframing offers me the opportunity in my work to pole vault over obstacles that have become hardened and tough over time and seek solutions from a new vision of possibility and abundance. It is the only tool I know that shifts an individual from acting as problem solver to enabling visionary change.' (Sonali Ojha, Founder & Director, Dreamcatchers Foundation)
Reframing can be purchased as an e-book on all Amazon sites.
You can also try the free online tool.